The Fireplace Hut Featured Specials
At The Fireplace Hut in Prince Albert, we offer featured specials for you to take advantage of! Shop our fireplaces, pellet stoves, barbeques, and more, but don't forget to check back here for regular updates.
If you have any questions regarding the below specials, feel free to contact us today.
ONE ONLY REGENCY WOOD STOVE !!!!!
CLEAROUT PRICE: $1650.00 ONE ONLY !!!
ALL BLACK  WITH PEDESTAL BASE 
(flat top not exactly as shown in picture)
Regency S2400 wood stove
EPA certified
Mobile home Approved
RSF Onyx Wood Fireplace Show room Change out Sale !!
SHOWROOM RSF ONYX MODEL
CHANGE OUT (NEVER FIRED)AS IS !
FULL WARRANTY!
REGULAR PRICE $3325.00
SALE PRICE !!!!---$2850.00 !!!!!!
A MUST SEE IF YOUR IN THE MARKET!!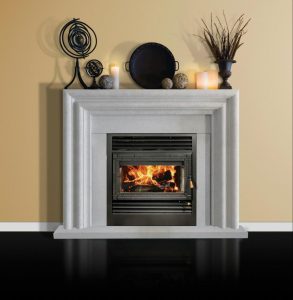 RSF Delta model change out
Floor Model Change Out !!
Unit comes with Pewter Doors and "Black Louvers"
RETAIL $5910.00
ONE ONLY !!!!!
SALE PRICE $4850.00
SAVINGS $1060.00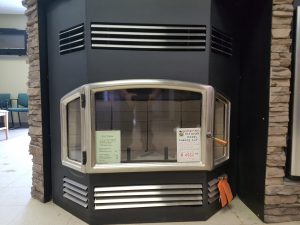 BIS Panarama CIW Satin Door
*Catalytic Wood Fireplace Regular Price: 5810.00 Sale Price: $4195.00 (Savings of 1615.00)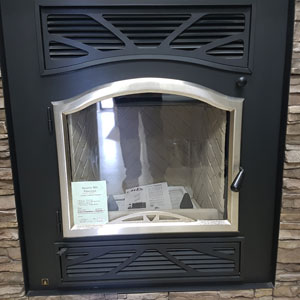 RSF TOPAZ WOOD FIREPLACE SHOWROOM CHANGE OUT SALE !!
SHOW ROOM CHANGE OUT FULL WARRANTY NEVER FIRED !
RSF TOPAZ -2.1 CU/FT/16"LOG /50,000 BTU'S
with pewter extrusions and pewter louvers (Not as shown)
REGULAR PRICE $3845.00
SALE PRICE $ 2995.00
HUUUUGE SAVINGS !!!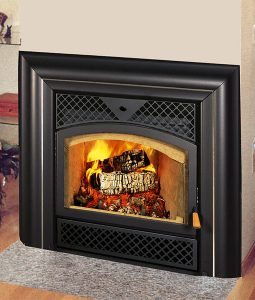 Iron Strike Bellevue32 Gas insert
INSTOCK IRONSTRIKE
BELLEVUE 32 GAS INSERT
 FULL SURROUND /IRONRAIL DECORATIVE TRIM
REG. PRICE- $3055.00
CASH & CARRY
$2500.00 plus tax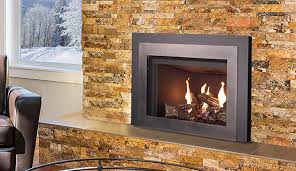 Logwood 1269E wood stove
LOGWOOD 1269E
Wood Stove 50,000 BTU'S
Heats up to 900 sq/ft holds 23" logs
built in damper
weight 116 Lbs/33" deep/18.5" wide/25.75" high
PRICE : $ 495.00 (2 only)
Wood fire pit / barbecue
CLEARING OUT !!!
Perfect backyard enclosed wood fire-pit/ barbecue
(3 left do not miss out )
50" high/30 " diameter/70 lb 
REGULAR PRICE : $395.00
SALE : $ 125.00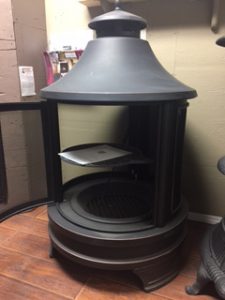 UPDATE:OUR EXCLUSIVE DEALERSHIP FOR KAMADO JOE GRILLS !!!
We're Excited to announce that we are now the exclusive dealer for Kamado Joe grills for Prince Albert and surrounding area !! This new product comes with some exciting innovations that are standard with this grill!! 
COME IN TO OUR SHOWROOM AND HAVE A LOOK  !
Model shown Kamado Joe Classic 2
Premium 18" grill
PRICE : $1699.00 plus taxes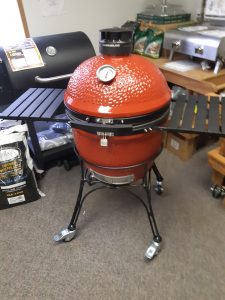 Happy Thoughts Antique Stove
Happy Thoughts Antiques stove Very Nice Condition a must see Price $1250.00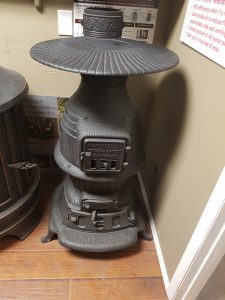 Refurbished CP Caboose Stove
For sale a refurbished to show stove believe it came from a C.P. caboose . This stove is ready for any man cave or a ornament piece for the cabin. call 306-763-7611 for more info
SALE PRICE - $950.00